A member of Labitat, [Kulitorum] donated around 50 telephones to labitat since his work place scrapped them.
I took one of the phones home to reverse engineer the LCD. After about 10 minutes with the logic analyser, it was clear that it's based on the Hitachi HD44780 or compatible controller.
Just connect the contrast pin to GND, then contrast is perfect for most projects – unfortunately the LCD is meant to be viewed from an angle, and is not good for a front panel etc. that you will view front-on.
I drew up the connections here:
Some pctures of the LCD and the adaptor i soldered up.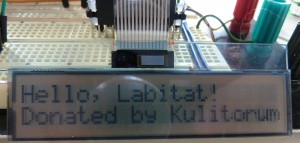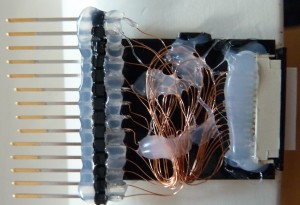 The phones contain some other nice parts, a DC-DC converter module some Xtal's, Electret microphone, speaker etc.
3 Responses to "Kulitorum donated some phones to Labitat…"
Kasper Brandt Says:
June 17th, 2011 at 06:30

Contrast og VSS er i hvertfald omvendt. Men jeg har nu ikke fået det til at virke – brugte du 4 eller 8 bit interfacet?

Per Jensen Says:
June 17th, 2011 at 08:44

Hmm ja, det var da pudsigt, jeg har fået byttet om på Contrast og VCC i listen, retter det straks.
Jeg har prøvet med både 4 og 8 bits med en Arduino, det virkede perfekt. Contrast benet har jeg bare lagt til stel.

Fine Pitch Connector converted to 0.1 Inch to allow Breadboard use » Geko Geek Says:
January 24th, 2012 at 00:00

[…] pitch connector that you would like to connect to your bread board? Per Jensen from Zapro shows us his solution here, he had a bunch of LCDs with a fine pitch ribbon cable that he wanted to use with his projects. […]
Leave a Reply